Mark Katzeff hails from South Africa, where he studied under top German-born jewellers and honed his craft into the exclusive jewellery business he has today. His shop utilizes unique, exotic materials such as mammoth ivory, mother of pearl, fossilized dinosaur bone, slate, and meteorite to name a few, to ensure that his pieces stand out from the rest. Combining European influences with unique textures and bold, modern lines, Mark designs most pieces himself. He strives to accommodate a wide range of tastes, styles and budgets to create pieces that suit anyone.
With over 32 years experience in the jewellery industry, Mark has won several awards at the local, national, and international levels. While this is an amazing feat, the appreciation he receives from his clients is worth much more to him than the glory of winning an award. 
To make sure that his clients receive the best value for their money, Mark only uses the best quality of gemstones and precious metals for his jewellery, sourcing it from reliable sellers all over the world. Most of the jewellery is handcrafted, resulting in pieces that excel in uniqueness. Mark personally oversees the creation of every item of jewellery to ensure that his quality and high standards are upheld. His eye for detail and his consultation-based design services set him apart from other jewellers and have brought him recognition worldwide.
About Mark
1962
- Born in Cape Town, South Africa
1982 - 1985

- Trained under South Africa's top award-winning jewellery designer, Franz Huppertz

- Received 6 jewellery awards, including 2 first place prizes

1985

- Studied at the Foundation School For Art in Cape Town

- Qualified as a Manufacturing Jeweller

1986 - 1987
- Worked as a goldsmith/jewellery designer for Uwe Koetter Manufacturing Jewellers (voted one of the top jewellers in South Africa by De Beers) 
 1987

- Studied jewellery design under Elaine Hoffmeyer (a graduate of the University of Stellebosch's BA Jewellery Design program)

- Immigrated to Edmonton, Canada and began working as a Designer Goldsmith at Park West Jewellers 

 1988
- Exhibited at the Cameo Craft Fair in Edmonton and received award for Best Craftsmanship
 1989

- Opened Mark Katzeff Designer / Goldsmith Inc. on Jasper Avenue in Edmonton

- Winner of De Beers' "Diamond Today" competition

- Winner of the "Editors Choice" Design Competition

 1996 - 2003
 - Six time winner of the "Buyers Choice" Design Competition (1996, 1997, 1998, 2001, 2002, 2003)
 2008 - 2012
 - Three time winner of the "Excellence in Design Competition (2008, 2009, 2012)
Write Up In Modern Luxuria 
Publication: Pages 20 – 23  modernluxuria.com  - July Issue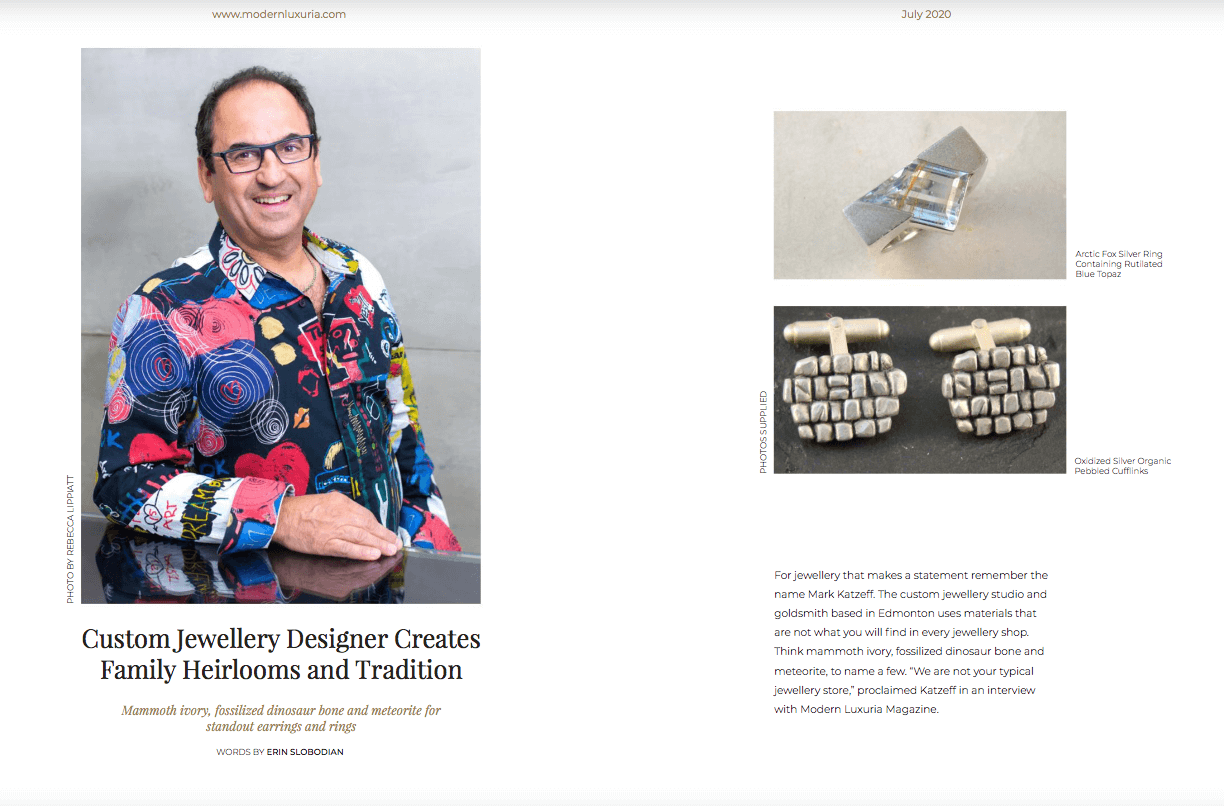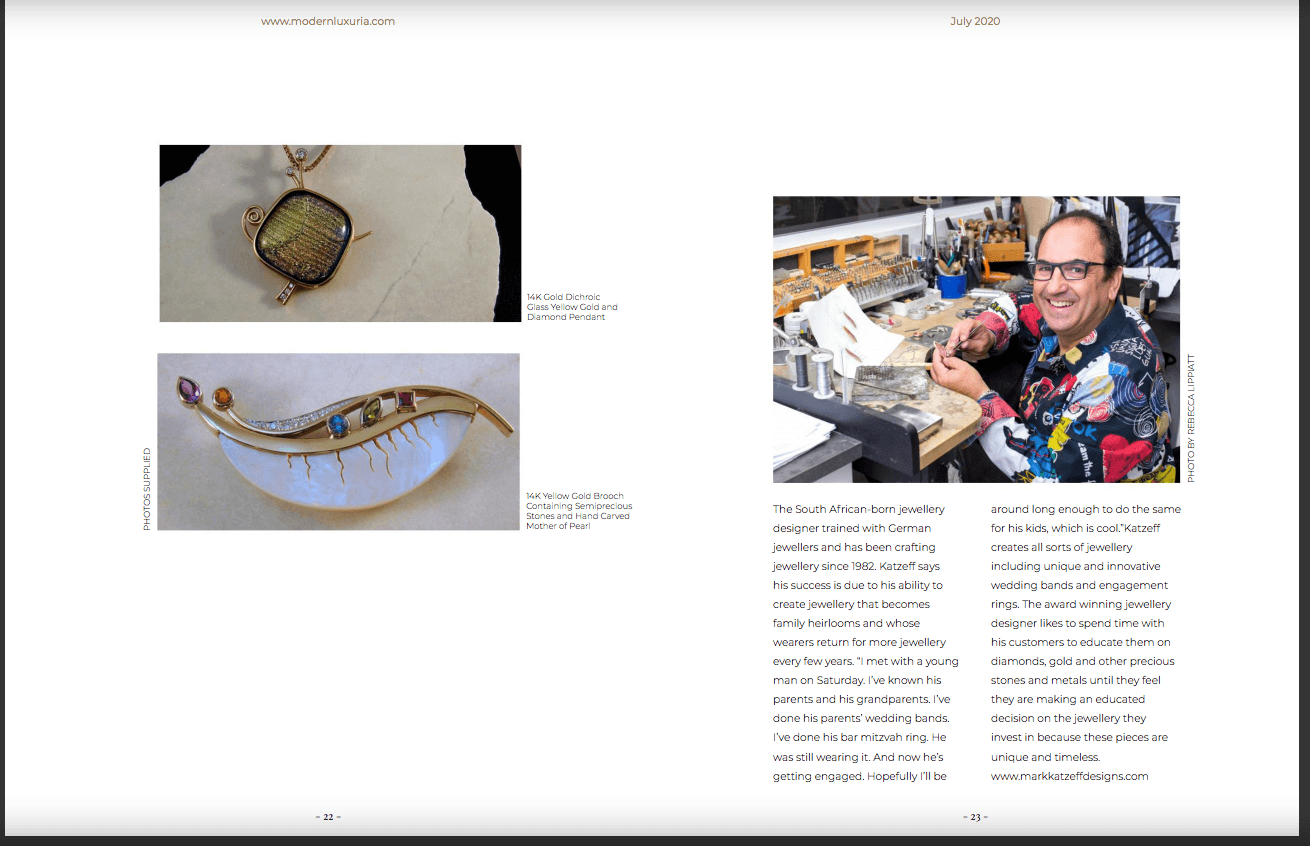 Business in Edmonton November 2019 Publication: Pages 69 – 72